January 15, 2020
2020 Calendar Contest Fundraiser for the 2021 CHS Calendar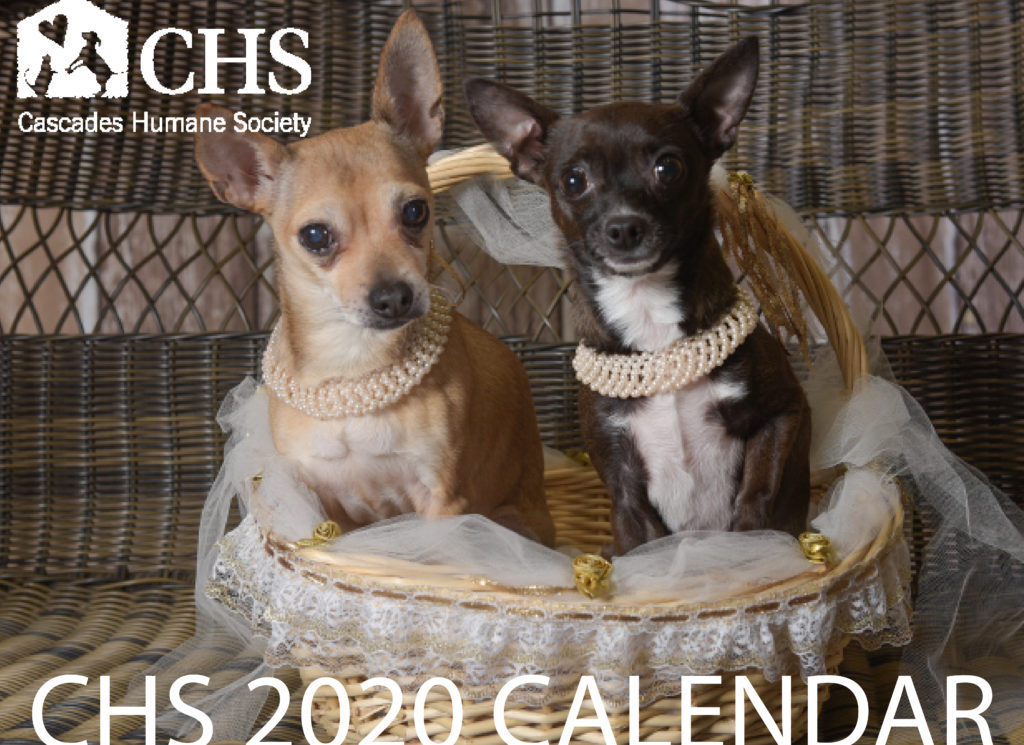 Does your pet have what it takes to be a model?
The model search for the 2021 Cascades Humane Society calendar will soon begin!
Freeland Photography is scheduling photo sessions for Friday, March 5th, Saturday, March 6th and Sunday, March 7th to capture the perfect photo of your pet(s)! Registration is now open!
Our annual calendar contest is a fundraiser requiring a donation to Cascades Humane Society of $10 per pet when you schedule your photo session. Each photo session is an entry into the calendar contest.
Immediately following your photo session, you will select your favorite picture of your pet(s) to be entered into the contest and you will have an opportunity to order prints or digital images of any of the photos taken during the session.
After you have selected your favorite photo, CHS staff will walk you through the process of setting up your very own fundraising profile through Qgiv.
Photos used in the calendar months will be decided through a peer-to-peer style fundraiser online. The top 13 fundraisers will be featured in the month of their choice. In addition to full bragging rights, the top fundraiser will also be featured on the cover.
The voting period for the contest is Friday, March 13th through Tuesday, March 24th at 11:59 p.m. (EST). A $1 donation to Cascades Humane Society equals one 'vote' (for example, 10 votes is $10). You can submit as many 'votes' as you like! After all, it is for the animals! In-person donations will be accepted through Tuesday, March 24th at 6:00 p.m. (EST) at CHS.
The 13 photos that have raised the most money at 11:59 p.m. (EST) on Tuesday, March 24th will be the winners!
No pet? You can still participate!
You can sponsor a photo session for an adoptable CHS animal for $10 – let us know if you prefer to sponsor a cat or a dog… we will select an animal that has been at CHS looking for his or her forever home the longest! We have space for 3 dogs and 3 cats. A professional photograph is a great asset for the animals patiently waiting at CHS to find their forever humans!
This year's theme? Inspired by Jackson's own Bright Walls, we are excited to announce that Zachary Snyder will be painting an 8′ x 8′ pet-style mural to use for our background! It will be colorful and fun!
A VERY special thank you to Christoff and Sons Floor Covering for providing the flooring for the pet photo shoots each year!
Appointments are open! Click here!
If you have any questions about scheduling, creating your fundraising profile, or the contest itself, please reach out to Stephanie Sharp via email- ssharp@chspets.org or via phone- 517-787-7387 ext. 130.