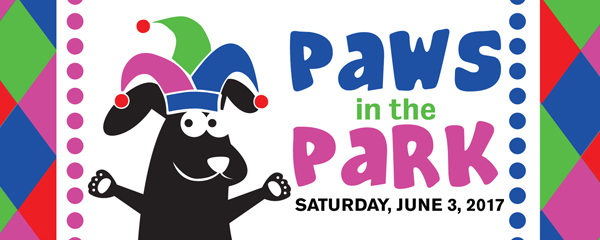 Our largest fundraiser and dog walkathon!
JOIN THE FUN  |  FUNDRAISING  |  DONATIONS  |  TIMELINE  |   FORMS  |  SPONSORS
Last year, more than 400 animal lovers came out to support the Cascades Humane Society and raised over $30,000 to help care for abandoned animals. This year, we hope you will join us and consider bringing your own Pack (team).
Our goal this year is $35,000 and we can't do it without your help!
When you participate, you are raising funds for Cascades Humane Society. Proceeds go to help save the lives of more than 1,000 animals each year. Each animal that enters our doors receives care (including, feeding, grooming, training, and medical care) that averages $650 per animal. What can you do to provide care for one animal? Check out our Fundraising Tips to help you get started.
Saturday, June 3, 2017
Cascades Falls Park along Randolph Street

JOIN IN THE FUN!
Paws in the Park 2017 includes a carnival theme and a beautiful 1.3 mile walkathon through Cascades Park. Grab your dog and join us, or you can walk without a pet. Bring the whole family – the paved walking path is perfect for strollers and wagons. Other activities included (some require tickets):
Ticket cost: 20 – $15 and 40 for $30. Additional tickets may be purchased for $1.00 each.
• Detroit Circus performances – 5 Tickets (Children 3 and under are free)
• Face Painting – 3 Tickets
• Balloon Twisting – Free
• Dunk Tank – 1 Ticket per throw
• 1.3 mile Pet Parade through Cascades Falls Park
• Event MC'd by K 105.3
• Dog Training Advice – 5 Tickets
• K-9 Police Dog Demonstration
• Dog Photo Booth – 3 Tickets
• Peanut's Kissing Booth – 1 Ticket
• 50/50 Raffle – 1 Ticket – $1, 10 Tickets – $5, and 25 Tickets – $10
• Terrier Races
• Doggie Competition
• Pet-related vendor booths
• Food, drinks, and cotton candy provided by The Jackson Breakfast Rotary Club
FUNDRAISING
Fundraising for Cascades Humane Society is easy. As you register for Paws in the Park, you will have the option to create your own Fundraising Page. Send your link to everyone you know to encourage them to donate to your walkathon. Use social media to help you raise funds. You will receive credit for all donations made under your fundraising page. You can also print the Off-Line Fundraising Form and use it to keep track of your cash and check donations. Keep your form with you. You never know who you might see during your day!
DONATIONS
Donations may be made to an individual or a team. General donations will be accepted as well.
TIMELINE
9:00 a.m. – Registration Opens
9:45 a.m. – Team Pictures at the Balloon Arch
9:45 a.m. – CHS Alumni Pictures at the Balloon Arch
10:00 a.m. – Walkathon Starts with Pet Costume Parade
10:45 a.m. – Canine Good Citizen Training
11:00 a.m. – Detroit Circus Performance
11:30 a.m. – K-9 Police Dog Demonstration
11:45 a.m. – Awards Presentation
12:00 p.m. – Detroit Circus Performance
12:30 p.m. – Field Trail Training Demonstration
1:00 p.m. – Detroit Circus Performance
1:30 p.m. – Raffle Draw & Wrap Up
FORMS:
Sponsorship Opportunities
Vendor Registration
Off-Line Fundraising Form
SPONSORS
Thank you to our generous sponsors!