March 20, 2019
Wine & Whiskers 2019 presented by County National Bank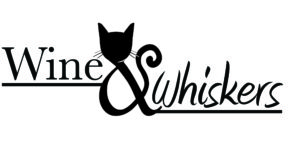 CHS is excited to announce the 2nd Annual Wine & Whiskers fundraiser, presented by County National Bank, celebrating all things cats! Wine & Whiskers is a wine and food 'purring' that will take place on Thursday, April 18th from 6-9pm at the beautiful Forty Nine South. In addition to the company of fellow pet lovers and local wine connoisseurs, guests will enjoy local wine & food pairing stations, raffles, and more!
Tickets are just $30 each before the event ($35 at the door) and include a souvenir wine glass and six wine tasting & food 'purrings'. Tickets can be purchased here.
In its first year, Wine & Whiskers saw just under 300 attendees, blowing our goal out of the park! This year, we anticipate this and much more!
Several wines from 5 local wineries will be paired with a sample of food that best brings out the flavors of each wine.
CHS is a limited intake facility, but we never limit the amount of time a pet can spend in our care. Each of our animals are spayed or neutered to prevent more unwanted litters of puppies and kittens. They are also brought up to date on vaccines, microchipped, disease tested, and given all the food, water, and love they could ever need while with us.
Of course, events like Wine & Whiskers are not possible without support from our sponsors. If you are interested in becoming a sponsor, contact Stephanie Sharp at ssharp@chspets.org or 517-796-4905.
Your sponsorship is 100% tax deductible. We are a tax exempt public charity and do not receive any government funding or support from national or state humane organizations. We rely solely on the generosity of individuals, businesses, and events like Wine & Whiskers to raise money to pay for the animals who find themselves homeless and in our care each year. Last year, CHS helped 1,348 of those animals find their forever homes!
Sponsor Form: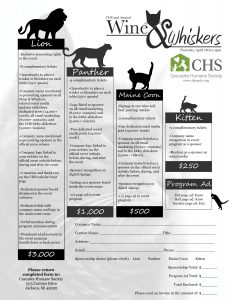 Thank you to our 2019 Wine & Whiskers Sponsors!


Check out some photos from 2018!